It's easy to take your vision for granted, but your risk of eye problems increases with time. Many eye conditions can develop as you age, putting your vision at risk. You may not be aware that investing in your nutrition can benefit your eye health.
There are at least 6 vitamins and supplements that can support your eye health, including lutein and zeaxanthin, omega 3 fatty acids, vitamin C, vitamin A, vitamin E, and zinc.
How Can Your Diet Affect Your Eyes?
Your vision changes with time, especially later in life. While there's nothing you can do about aging, you can protect your eyes and vision by investing in your diet. What you eat is important—eating a healthy, balanced diet can help keep your vision sharp.
Can Vitamin Deficiency Cause Eye Problems?
One vitamin essential for your vision and eye health is vitamin A. It helps you see the entire visible light spectrum while nourishing the eye's internal structures, including the cornea.
Vitamin A deficiency can negatively affect your vision, leading to night blindness. Additionally, it can affect your tears—your eyes may not have enough moisture to stay hydrated if you lack vitamin A. With time, vitamin A deficiency can lead to potential vision loss.
Someone is at risk of vitamin A deficiency if they have:
Intestinal inflammation
Liver or pancreas disease
Weight control surgery
Malnutrition
Measles
Diarrheal conditions
How You Can Improve Your Eye Nutrition
You can improve your eye nutrition by changing your diet.
Many experts recommend the Mediterranean diet for eye health. You don't need to follow this diet exactly, but incorporating more of these foods can benefit your eye health.
Foods in this diet include:
Almonds, cashews, and walnuts
Seafood
Healthy fats like olive oil
Moderate amounts of dairy and eggs
Green leafy vegetables
Lower salt intake
Colourful fruits
Whole-grain bread and pasta
For people with diabetes, a low-glycemic diet can be beneficial. Diabetes can lead to high blood sugar, which can damage your eyes. Foods in this diet can help prevent sugar spikes, lowering your risk of complications.
A low-glycemic diet includes:
Brown rice
Wheat pasta
Oatmeal
Sweet potatoes
Nuts
Whole-grain bread
Focus on getting enough vitamins and nutrients to improve your eye nutrition—from dietary changes or supplements.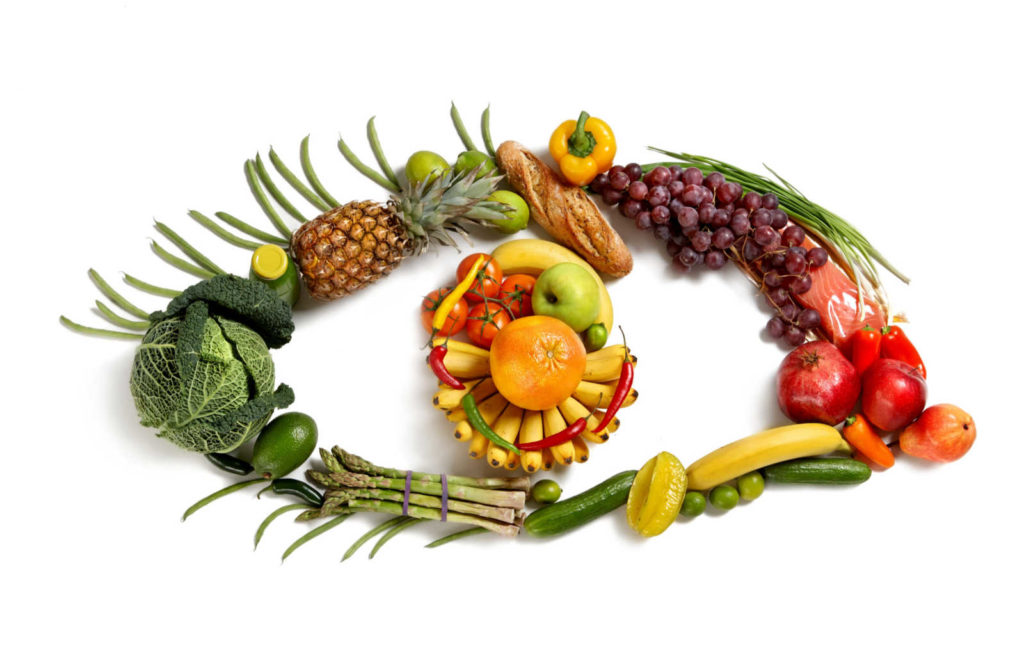 The Top 6 Vitamins & Supplements for Eye Health
You can benefit your eye health and vision by making dietary changes. Some of the best vitamins and supplements for your eye health include the following:
Lutein & Zeaxanthin
Lutein and zeaxanthin are found in your body, specifically your macula and retina. Research suggests these nutrients can help reduce the risk of cataracts and age-related macular degeneration progression.
Consider eating more of these lutein and zeaxanthin-rich foods:
Cooked spinach
Collard greens
Kale
Omega-3 Fatty Acids
Omega-3 fatty acids have anti-inflammatory properties, making them beneficial for your eyes. Research shows these fats may help prevent diabetic retinopathy and dry eye disease.
Eating fish, flaxseed, chia seeds, soy, and nuts can help you get more omega-3 fatty acids.
Vitamin C
Most people know of the benefits of vitamin C, thanks to oranges and other fruits. It's an important vitamin that benefits collagen production, muscles, cartilage, and blood vessels.
Despite being essential for your health, vitamin C isn't produced in the body—you need to get it from outside sources. Studies have found vitamin C may help lower your risk of cataracts as you age.
If you're looking to get more vitamin C in your diet, prioritize these foods:
Citrus fruits
Tropical fruits
Kale
Broccoli
Bell peppers
Vitamin A
Vitamin A is essential for vision, immunity, reproduction, and growth. This vitamin can have several eye-related benefits, including reduced risk of eye conditions like cataracts and age-related macular degeneration.
You can get more vitamin A in your body by eating:
Sweet potatoes
Leafy green vegetables
Pumpkin
Bell peppers
Vitamin E
Vitamin E is an essential antioxidant that protects your cells. It's important for your vision, skin, blood, and brain. Some research suggests this vitamin can help reduce the risk of age-related eye diseases.
If you're looking to increase your vitamin E intake without supplements, add more of these foods into your diet:
Salmon
Avocado
Leafy green vegetables
Zinc
Zinc helps protect against damage to your cells. It's a naturally present antioxidant in your eyes. Some research suggests zinc can protect against macular degeneration as you get older.
If you're looking to get more zinc in your diet, look for oysters, pumpkin seeds, and peanuts. Additionally, you can look into zinc supplements, but speak with your doctor first.
Invest in Your Eye Health
Eye nutrition can help lower your risk of eye-related problems. Working with your eye doctor to change your diet can benefit your health in the long run. You may not thank yourself now, but try again in a few years. Contact the team at Eye Wellness if you're interested in learning more about eye nutrition!