When it comes to understanding your eyeglass prescription, the process can sometimes feel overwhelming. With a multitude of numbers and abbreviations, deciphering the information written on your prescription may seem like a daunting task. In this blog post, we will break down the components of an eyeglass prescription and guide you through the reading process.
The steps to reading your eyeglasses prescription include:
Look at the top of your prescription
Identify which eye is which
How to tell if you are nearsighted or farsighted
Determining if you have astigmatism
Figuring out your cylinder power
Correcting for presbyopia
Contact lens prescriptions
Prism
Understanding Eyeglass Prescription Terminology
There is a lot of short-hand writing on your eyeglass prescription. Here are the primary terms and what they mean.
OD (Oculus Dexter): This Latin term refers to the right eye.
OS (Oculus Sinister): This Latin term refers to the left eye.
Sphere: This indicates the amount of lens power needed to correct nearsightedness or farsightedness. It is measured in diopters and can be either a positive number (+) for far-sightedness or a negative (-) for near.
Cylinder: This indicates the amount of lens power needed to correct astigmatism. It is also measured in diopters and can be either positive (+) or negative (-).
Axis: This number indicates the orientation of the cylinder correction. The axis has a range from 1-180, with 90 being directly in front of the eye.
Addition (or Near Add): This measurement is used for presbyopia, which is the loss of near vision that occurs as you age. It indicates how much additional power must be added to your lenses to focus.
What Is Sph Cyl & Axis in Eye Prescription?
Sph, cyl, and axis is the shorthand way of referring to sphere, cylinder, and axis when talking about an eye prescription. These three terms describe the parameters that are needed for glasses or contact lenses to properly correct vision issues such as nearsightedness, farsightedness, and astigmatism.
Sphere (or Sph) is the measurement that describes the amount of power in each lens, with a range from -20 to +20. A negative number means you are nearsighted and have difficulty seeing far away; a positive number means you are farsighted.
Cylinder (or Cyl) is used to describe any astigmatism that needs to be corrected, and if there is no astigmatism, the cylinder power will be zero.
Lastly, the axis describes where the cylinder power needs to be applied in order to correct vision.
Together, these three numbers make up an eye prescription, and they are needed in order to get a pair of glasses that suit your vision needs.
Decoding Your Eyeglasses Prescription
Now that we understand the terminology, let's walk through the step-by-step process of reading your eyeglass prescription:
#1: Look at the Top of Your Prescription
Start by identifying the heading of your prescription, which typically includes your name, the prescribing doctor's information, and the examination date. 
#2: Identify Which Eye Is Which
Next, locate the measurements for each eye. You'll typically find these under the headings "OD" (Oculus Dexter) for the right eye and "OS" (Oculus Sinister) for the left eye. There may also be the abbreviation "OU" (Oculus Uterque) for both eyes.  To the side, under the OD or OS, you will find the Sphere Measurement.
#3: How to Tell If You Are Near or Farsighted
Look for the "Sphere" measurement. The first number in a prescription is the spherical correction, often abbreviated as SPH.  If you have a minus sign (-), it means you're nearsighted, while a plus sign (+) indicates farsightedness. The larger the number, the stronger the lens required. Keep in mind that it is not uncommon for the right eye to be quite different from the number for the left eye; in fact, this is normal.
#4: Determining If You Have Astigmatism
If your prescription includes a "Cylinder" measurement, it means you have astigmatism. The cylinder value determines the amount of correction needed.
#5: Figuring Out Your Cylinder Power
Check the "Axis" measurement to determine the angle at which the cylinder power should be applied.
#6: Correcting for Presbyopia
If your prescription includes an "Add" measurement, you require additional correction for reading or close-up tasks due to presbyopia. The higher the number, the stronger the lenses required.
#7: Contact Lens Prescriptions
If you're looking for a contact lens prescription, it will include Base Curve (BC), Diameter (DIA), and Power measurements, as well as other parameters that help determine your specific type of contact lenses. It's important to speak with an eye care professional to ensure you choose the right type of lenses for your eyes.
#8: Prism
A few prescriptions include prism to aid in eye coordination or rehabilitation. The measurement for prism is in prism dioptres, or PD, followed by the base direction: BU (base up), BD (base down), BI (base in), and BO (base out).
Additionally, the amount of prism is measured by displacement, indicating the shift in line of sight when using the lens. Vertical and horizontal prisms are the most common, with some prescriptions including oblique prisms requiring eye movement in different directions.
The most important factor when considering prism is determining a patient's comfort level with each type of prism and how it affects their vision in everyday life. Your eye care professional should be able to assess your individual needs and ensure you are prescribed the correct amount of prism for your particular situation. The amount of prism specified should be enough to provide clear vision without causing eye strain or fatigue.
Your eye care professional can discuss the potential implications of this with you and help you find a prismatic power and design that will provide clear vision without reducing your field of view too much.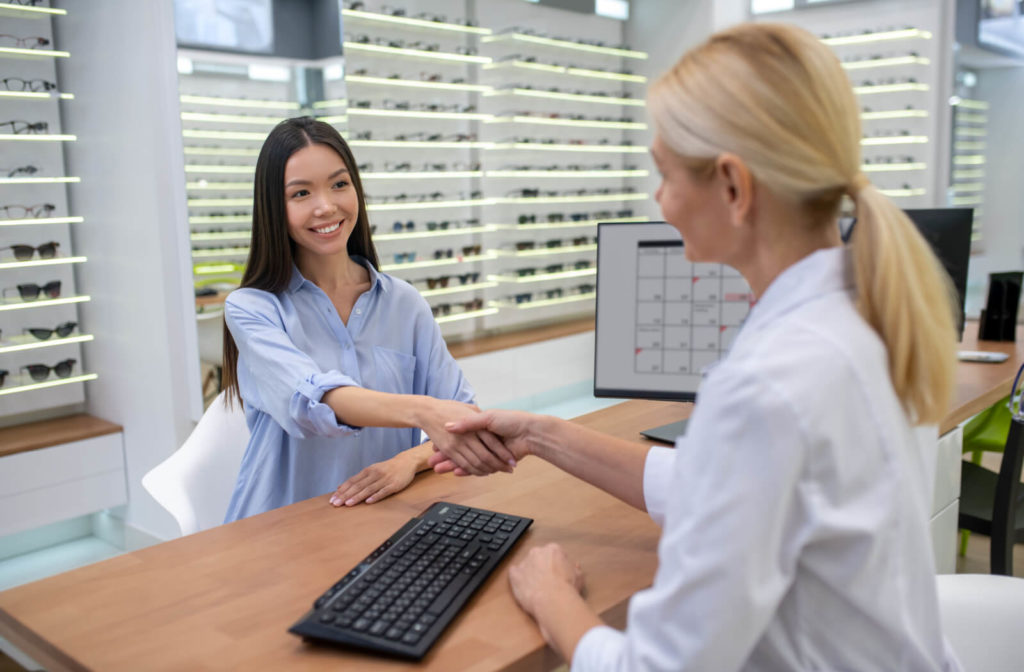 Visit Eye Wellness to Update Your Eyeglass Prescription
Make sure you talk with your eye care professional about what type of prism, power, and design will best suit your eyesight so you can achieve clear vision.
The team at Eye Wellness is here to help guide you through this process and provide you with the correct prescription. At Eye Wellness, we can help provide insight into your prescription and answer any questions you have. Contact us today to schedule your next eye exam or to update your prescription.