Virtual Reality & Eye Health
Technology is an essential part of our everyday life, for work and play. Many technologies are developing rapidly, making it challenging to understand how each affects our health. Screen time and video games have long been a debated topic for eye health, particularly with the effects of digital eye strain.
VR introduces a new type of screen time. VR, or virtual reality, isn't a new idea, but the term as we know it was coined in the 1980s. Yet, it's only recently become attainable for a wider audience.
Caring for your eye health is more than scheduling an eye exam. It's something we do every day, and that includes how our eyes interact with digital screens and VR. So, is VR bad for your eyes? Or is there more to VR and eye health?
Are VR Headsets Bad for Your Eyes?
VR headsets commonly use 2 LCD (liquid crystal display) monitors, similar to placing 2 phone screens side-by-side. Although VR headset manufacturers set age limits (typically age 12–13), there is no evidence VR screens affect eye development.
VR screens and phone screens are relatively new. It may seem like they've been around forever, especially as there are generations where smartphones have been part of their every day since infancy. However, we don't know enough long-term effects to completely rule out VR and digital screens having any consequences.
Still, we know VR use can have short-term effects on eye health and vision. As VR screens are similar to other digital screens, VR use can cause digital eye strain.
VR & Digital Eye Strain
Digital screens make our eyes work harder to focus. When we use digital screens for long hours, the intense focusing exhausts our eyes, leading to digital eye strain or computer vision syndrome. Symptoms commonly include:
Dry eyes
Blurry vision
Watery eyes
Asthenopia (fatigue)
Redness or irritation
Neck or shoulder pain
Optometrists recommend adding distance between your eyes and digital screens. The minimum distance for a smartphone or computer screen distance is an arm's length (or 2 feet). Yet, VR headsets place screens even closer than smartphones, typically less than a few centimetres.
The distance may not cause long-term symptoms, but it's still a good idea to limit your VR time to reduce eye strain. If you use a VR headset daily, it's best to schedule breaks to rest your eyes. Additionally, you may use eye drops to add moisture.
VR Cybersickness
The most well-known side effect of VR is something similar to motion sickness. Motion sickness occurs when your body's sensory organs get mixed messages about your movement. As a result, what you're seeing and feeling is different.
Usually, people feel motion sickness when travelling by car, plane, or boat—but roller coasters also count.
Symptoms of motion sickness include:
Dizziness
Headache
Cold sweat
Drowsiness
Nausea or vomiting
Shortness of breath
Feeling unwell (malaise)
Difficulty maintaining balance
However, VR motion sickness is different because you're not experiencing physical motion. The problem is that you're visually experiencing movement, but your body isn't. So your vision is working as it should, but it can be an uncomfortable sensation.
VR motion sickness, or cybersickness, is a temporary condition. Some methods for relieving traditional motion sickness also work for VR, including:
Aromatherapy
Chewing gum
Chamomile tea or ginger
Taking a screen (VR) break
Getting some fresh air
Nibbling on saltine crackers
Drinking water or carbonated beverage
VR Eye Health Benefits
VR may have side effects, but it also has benefits. Most people are familiar with the fun of VR, usually for video games or entertainment experiences. But VR isn't only for video games.
Some programs have used VR technology for therapeutic uses. Programs have used the VR system to aid in correcting vision problems, including:
Amblyopia (lazy eye)
Reaction time
Eye coordination
Depth perception
Hand-eye coordination
As the technology develops and becomes readily available, programs may continue to expand how VR can benefit health.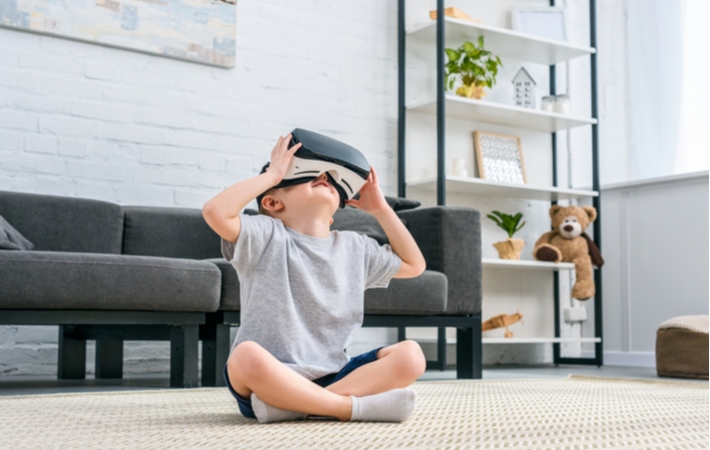 Children's Eye Health
Although there are restrictions for younger users, all ages can enjoy VR. Age restrictions may deter some users, but there are still kids and teens who'll likely want some VR time.
There are no known long-term eye development effects from VR. However, there is a potential risk between too much screen time and myopia progression.
Myopia, an eye condition causing blurry distance vision, is a growing concern for health professionals. Studies have predicted a significant increase in the global population, affecting nearly 50% of people by 2050.
Adults using VR can monitor themselves, but children may not have the insight to rest their eyes as often. For parents or guardians, remind kids to take VR screen breaks to protect their vision and eye health.
Protect Your Visual Reality with Eye Wellness
VR isn't bad for your eyes. Although VR screens can temporarily affect vision, creating good eye habits can alleviate most symptoms. Just as digital screen use is part of your every day, you should also make time every day for eye health.
If you're experiencing symptoms of digital eye strain, our team at Eye Wellness can help. We can assess your eye health and develop a treatment plan to improve visual comfort on and off-screen time.