It's common for people to experience changes in their vision as they age. This can be from the onset of various eye diseases, the formation of cataracts, or the progression of eye conditions that already exist. One of these eye conditions is myopia.
We are going to discuss what myopia is, how it can affect you, and the relationship your age has with myopia. Modern optometry has many solutions for managing myopia as you age. The best way to identify changes in your vision is by getting regular eye exams every year.
Your prescription may change due to a shift in your myopia. Eye exams provide updated information on your visual acuity and scan for diseases. If it's been a while since your last checkup, do your eyes a favour and schedule a visit to your eye doctor.
What is Myopia?
Also known as nearsightedness, myopia is a condition that makes it difficult to focus on objects that are far away. Nearsighted people can still see things that are close clearly, but distant objects will appear blurry. Myopia is common in Canada, affecting nearly 30% of the population.
Myopia occurs when the eyeball is too elongated or the cornea has too much curvature. This changes the way that light enters the eye and refracts on the retina. A nearsighted person's eye focuses light in front of the retina, which creates blurred images. An abnormally shaped eye is what leads to this refractive error.
How Do I Know if I Have Myopia?
Myopia is mostly characterized by a difficulty focusing on things that are far away. If you have trouble seeing your TV clearly or focusing on a whiteboard at school or work, you might be nearsighted. Other indicators include finding it challenging to recognize faces at a distance and trouble reading street signs when driving.
Even if you have been diagnosed with myopia and received a prescription, distant objects can become blurry over time as your eye continues to change. Your optometrist will check for visual acuity during your annual eye exam and determine if myopia is present.
Other symptoms that can implicate you have myopia include:
Headaches
Fatigued or painful eyes
Constant squinting
Risk Factors for Myopia
Myopia is often an inherited condition. If one of your parents has myopia there is a much greater chance that you will develop this refractive error Certain health conditions, such as diabetes, can also increase the risk for developing nearsightedness.
Some studies are finding an association between near work and myopia. Near work describes activities that require close visual focus for a long period, such as using a computer. Understanding digital eye strain and how to best manage it may help your eyes adjust to modern digital demands.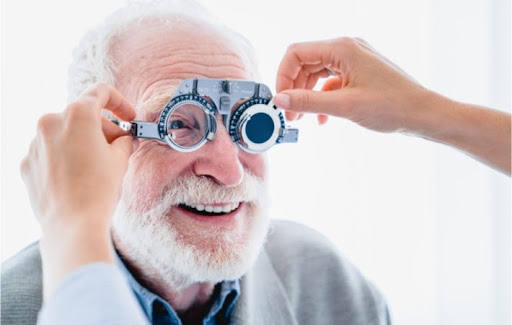 What Causes Myopia to Worsen?
There are several factors that can contribute to the worsening of myopia. One of the most significant is genetics. Studies have shown that if one or both parents have myopia, the chances of their children developing it are significantly higher.
Spending time engaging in close-up work, such as reading or using electronic devices, can strain the eyes and also contribute to myopia progression.
Another factor is a lack of outdoor time. Studies have shown that exposure to natural light and time spent outside can slow the progression of myopia.
If you have myopia, it is essential to have regular eye exams and follow your eye doctor's recommendations to manage and slow its progression.
Aging & Myopia
Myopia is typically diagnosed between the ages of 8 and 12. Changes in prescription often slow down about the age of 20, when our eyes begin to stop growing. Many people will not experience an increasing degree of myopia as they exit their 20s, but diagnosis as a child will usually remain with someone their whole life.
It's rare for myopia to continue to get worse as you age past your early 20s. But there are exceptions. This can occur due to continuous elongation of the eye or from visual stress related to near work or other environmental factors. Most people diagnosed with nearsightedness can expect it to stabilize as an adult.
Myopia Treatments
While there is no cure for myopia, there are several options available for correcting the condition. Some recent advances in optometry suggest we can slow the progression of myopia with specialty eyewear. Talk with your optometrist about your options for managing myopia.
Corrective Eyeglasses
The most classic method for correcting myopia is still a great one! Depending on the severity of your myopia you may need to wear glasses full-time or only in certain situations. Today's lens technology means that virtually all frames and eyewear can be fitted with lenses for myopia correction.
Contact Lenses
Contact lenses can also be used for correcting nearsightedness. Depending on the severity of your diagnosis, you may require specialty contacts. A contact lens exam and fitting are essential for finding the right brand and fit that corrects your myopia without sacrificing your eye's comfort.
Orthokeratology (Ortho-k) is the process of using specially fitted contact lenses to reshape the cornea and improve the effects of myopia. These lenses are usually worn at night, allowing you to go contact free in the day. Vision improvement can occur as long as the lenses are being worn consistently.
MiSight contact lenses are designed to diminish myopia progression in children. They work by using a lens technology that redirects light into the eye and tricks the eye into not growing abnormally. This myopia management option is usually offered to children between 8-12 years old.
Laser Eye Surgery
Refractive surgery is another possible myopia treatment. This includes LASIK, PRK, and other laser procedures that change the shape of your cornea by using precise lasers. Laser surgery can correct myopia by changing the way that light refracts into the eye. Book a laser eye surgery consultation to see if you're a candidate for this reliable myopia treatment method.
The Bottom Line
Many of us will be diagnosed with myopia during our childhood or teenage years. The severity of nearsightedness can change a lot until the age of 20, when most people experience vision stabilization. There are some exceptions, but there are also several ways to manage myopia for various ages.Treating a refractive error correctly is done with an optometrist who can provide an accurate, up-to-date prescription. Book your next eye exam to make sure that your myopia isn't getting any worse and you are seeing as clearly as you can.