Have you ever suffered from eye redness and wondered what it could be? If so, you're not alone. Eye redness is common and can be caused by a number of factors.
Most of the time, eye redness is not something to be too concerned about, but how can you tell when it's serious? If you're concerned about your eye health, see your doctor for an eye exam. Until then, here's everything you need to know about the common causes of red eye, how it's treated, and what symptoms to look out for.
What is Red Eye?
Red Eye is an eye condition that occurs when the blood vessels in one or both eyes swell, reddening the white of the eye, known as the sclera. Although it may look serious, red eye is usually harmless but could be an indication of a more serious issue.
Common Red Eye Symptoms
Sometimes the only red eye symptom you'll experience is eye redness, but the condition can be associated with any of the following symptoms:
Eye irritation such as itching or burning
Dry or watery eyes
Pain in or around the eyes
Irregular or excessive discharge
Sensitivity to light
Blurry vision
What are the 10 Most Common Causes of Eye Redness?
There are countless reasons why your eyes may be red. From common eye allergies to more serious eye conditions like corneal ulcers, the degree of redness can vary from minimal redness to full-on bloodshot. To better understand why your eyes are red, we've compiled a list of the most common causes associated with eye redness.
Environmental Irritants
Environmental irritants are all around us. Unfortunately, these irritants are somewhat unavoidable and can lead to eye redness.
Environmental causes of red eye may include:
Airborne allergens such as pollen or dust
Air pollution and fumes
Smoke
Chemical exposure
Sunlight
Eye Infections
Studies show that red eye is a common symptom in bacterial, fungal and viral eye infections. Eye redness may be a sign that you are suffering from any of the following conditions:
Contact Lens Wear
Although many people wear contact lenses without issues, there is always a risk associated with contact wear. If you wear contacts that are not a correct fit, improperly cleaned and cared for, or worn overnight, contact lenses can seriously impact the health of your eyes.
Eye redness is a common symptom of scrapes, general irritation and eye infections caused by the use of contact lenses and could be a sign that you need to see your eye doctor.
Trauma or Injury to the Eye
When the eye is injured or undergoes trauma, there is a chance that the blood vessels in your eye will enlarge in order to heal and repair the injury. This can cause redness in the eyes and is usually a sign that the body is just doing its job!
Lifestyle Factors
Although many causes of red eye are out of our control, some lifestyle factors that may lead to eye redness can be managed. These include: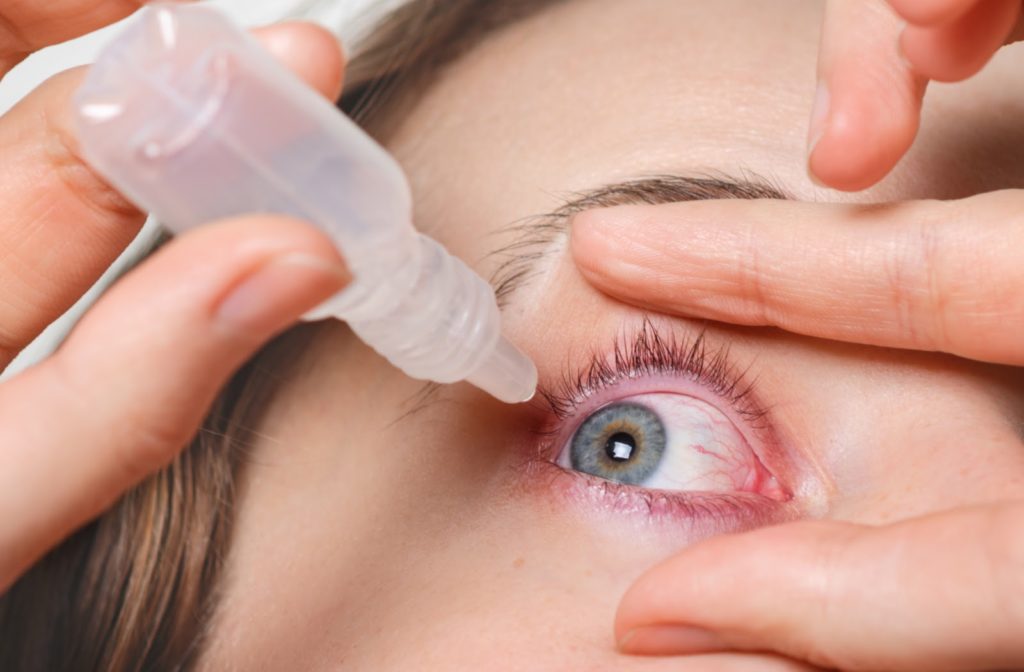 How is Red Eye Treated?
Because there are many different causes associated with eye redness, the best way to find a treatment suitable for your eye health is by consulting your eye doctor and receiving an eye exam.
If your red eye is not a symptom of a more serious eye condition, your eye doctor may recommend any of the following treatments:
When Should You See a Doctor?
You should see a doctor for an eye exam if your eye redness is accompanied by any of the following symptoms:
Prolonged blurriness or loss of vision
Pain in or near the eyes
Recent head trauma
Injury due to chemical burn or splash
Recent eye surgery
If you are experiencing severe symptoms, you may need emergency eye care and it is best to see your eye doctor or a health professional right away.