Dry eyes can cause irritation and discomfort, but you can help keep your eyes healthy with proper nutrition. A healthy diet is beneficial in more ways than you think; you can help support your eyes with a balanced diet and supplements if needed. If you're interested in keeping your eyes comfortable and moisturized, learn more about the best supplements for dry eyes.
What is Dry Eye?
Dry eye is a common eye condition affecting approximately 30% of Canadians. Your eyes receive moisture and protection from your tear film each time you blink, but complications can affect the tear film and your eyes.
This eye condition typically occurs because of increased tear evaporation or decreased tear production. When your tear film is affected, you may experience several irritating symptoms, including:
A stinging, burning sensation in your eyes
Foreign object sensation
Blurred vision
Eye fatigue
Watery eyes
Light sensitivity
Red eyes
Dry eyes can be irritating and strain your vision, but you can help your eyes function effectively with proper nutrition. If you're interested in supporting your eye health, learn more about some of the best supplements for dry eyes and your ocular health.
Supplements for Dry Eye
Vitamin A
Vitamin A is essential for your health; a deficiency can even lead to dry eyes due to inadequate moisture production. Vitamin A helps to support your cornea, the protective outer layer of the eye.
A study of 30 males took a daily vitamin A supplement of 1,500 mg for 3 days. Researchers tested each subject's tear quality before and after they took their supplement. After finishing the tests, participants had better quality tears.
If you're interested in using vitamin A supplements, do so with caution. Too much vitamin A can cause harmful side effects. Many people get enough vitamin A through a varied and balanced diet, so consider some of the following foods if you prefer to get nutrients through your meals.
Beef liver
Sweet potato
Carrots
Black-eyed peas
Spinach
Broccoli
Red peppers
Mango
Fish Oil
Some people use fish oil for their heart health, but this supplement can help your dry eyes because of the omega-3 fatty acids they provide. Omega-3s can help ease irritation by soothing inflammation within your eyelids and on the eye's surface.
A diet with ample omega-3 fatty acids can help production in your meibomian glands, the glands responsible for producing the oily layer of your tear film. The oil these glands produce stops your tears from evaporating too quickly, keeping your eyes moisturized.
A 2016 study found that omega-3 based supplements can significantly improve dry eye symptoms after 6 months of use.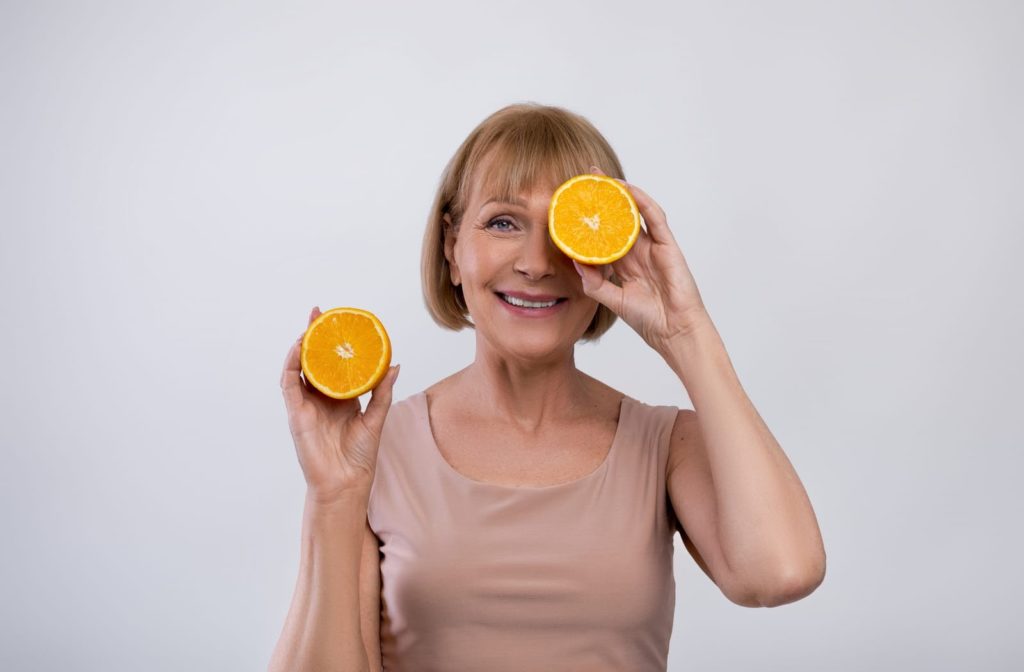 Vitamin C
Vitamin C can help boost your eye health. The antioxidants benefit the blood vessels in your eyes and can help prevent cataracts. Vitamin C is necessary for collagen synthesis, critical for the structure of blood vessels, tendons, ligaments, and bones.
You can effectively get vitamin C into your system with both natural ingredients or supplements. Some vitamin C-rich sources you can add to your diet include:
Orange juice
Grapefruit juice
Oranges
Raw spinach
Tomatoes
Bananas
Apples
Flaxseed Oil
Flaxseed oil offers an alternative way to get the omega-3 fatty acids you need, offering the same benefits as fish oil but slightly less concentrated.
Flaxseed oil consists of alpha-linolenic acid (ALA), which does not convert as easily in the body as fish oil does. You may need to take more flaxseed oil supplements than other omega-3 sources, but these can be a good choice if you're vegetarian.
The fats present in flaxseed oil can soften the fats within the oil coming from your meibomian glands, improving tear quality.
Cod Liver Oil
Cod liver oil is extracted from the livers of Atlantic cod, offering several different nutrients for your dry eyes. Cod liver oil contains less omega-3 fatty acids than other fish oils, but it has higher levels of vitamin A and D. These vitamins help your tear quality and reduce eye inflammation.
Zinc
Zinc helps maintain the health of your retina, cell membranes, and protein structure while allowing vitamin A to travel from your liver to the retina. Without zinc, vitamin A can't reach the retina to produce melanin, a pigment helping protect your eyes from infection.
Vitamin D
Vitamin D can have a direct impact on your eye health. This vitamin helps to improve the coating of the tears spreading across the eye's surface, and it may help reduce inflammation. A study found dry eyes may link to vitamin D deficiency, so improving your daily dose may be beneficial.
If you plan on using vitamin D supplements, be careful. Complications are rare, but they can cause significant health problems. Make sure to use the recommended dose of 600 IU per day for adults.
Lutein & Zeaxanthin
Lutein and zeaxanthin are found in many different vegetables and even in your eyes. These antioxidants can help protect your eyes from harmful UV rays and may help with preventing age-related eye diseases.
A 2015 study discovered lutein reduces inflammation in the eyes, helping to protect corneal cells and reducing dry eye symptoms. If you're looking to incorporate lutein and zeaxanthin-rich ingredients into your diet, look for vegetables like:
Adding supplements into your diet can help you make sure you're getting the vitamins and nutrients you need. With good eye nutrition, you can help keep your eyes healthy.
Take Care of Your Ocular Health
Supplements can support your vision and ocular health. With proper nutrition, exercise, and other healthy lifestyle choices, you can maintain your vision for the future. If you're interested in eye nutrition, contact your optometrist.