Dry eye is among the most common issues we help our patients manage, and it can develop for several reasons. Dry air, eye strain, medications—it can all affect your eye comfort. But what about contact lenses? Can contacts lead to dry eye symptoms, and if so, what can you do to achieve the clear, comfortable vision you deserve?
Today, we'll look at the relationship between your contacts and eye comfort and the strategies we might recommend to manage the discomfort you could experience while wearing contacts.
Of course, there is no "one-size-fits-all" solution for managing dry eye or other uncomfortable eye symptoms, so speak to the Eye Wellness team to get the help you need. We'll take a comprehensive look at your eye health, vision, and eye comfort to develop a plan suitable to you, and you can start today by requesting an appointment!
A Quick Breakdown of Dry Eye
Before we look at the relationship between dry eye and contact lenses, let's look at what dry eye is, how it develops, and the types of symptoms you can experience.
Dry eye, also known as dry eye disease or dry eye syndrome, is a condition that can occur when your tears are imbalanced and aren't comforting your eyes properly. Your tear film is made up of 3 distinct ingredients, each of which has a role in maintaining your eye comfort. These ingredients include:
Mucus, which adheres your tears evenly across the surface of your eyes.
Water, which hydrates your eyes and washes away small foreign particles like dust and dirt.
Oil, which seals in your tear film and prevents it from evaporating.
Dry eye can happen for various reasons, but we can break it down into 2 different groups: evaporative dry eye and aqueous tear deficiency. Evaporative dry eye occurs when your tear film doesn't have enough oil to keep your tears from evaporating. Aqueous tear deficiency occurs when your eyes don't have enough water content to keep your eyes hydrated.
Regardless of the type of dry eye you have, some of the most common symptoms include:
Irritation
Wateriness
Blurry vision
Grittiness
Several factors can increase your risk of developing dry eyes, like certain types of medications, living in dusty or dry environments, or even wearing contact lenses.
Contact Lenses & Your Eye Comfort
Now we've come to the million-dollar question: do contact lenses dry your eyes?
If you're wearing properly-fitted lenses and follow your optometrist's instructions for taking care of them, you shouldn't experience dry eye symptoms or other types of discomfort. However, you could experience symptoms if you:
Have Pre-Existing Dry Eye Syndrome
Your eyes need a healthy tear film before your doctor can recommend contact lenses. If you already struggle with maintaining your eye comfort, your optometrist may want to treat your dry eye symptoms first or recommend an alternative way to help you achieve clear vision.
Wear Improperly-Fitted Contact Lenses
If your contact lenses are too large or too small, they may irritate your eyes over time and cause dry eye symptoms. Before you wear contacts, our team will need to perform a comprehensive contact lens exam and fitting to determine if you can wear contacts comfortably and which type of contacts may suit your eyes best.
Wear Old Contact Lenses
If you're wearing extended-wear contact lenses, you'll eventually need to replace them. Wearing old contact lenses can affect your eye comfort and possibly increase your risk of developing an eye infection.
Please speak to your optometrist to see which type of contact lens is right for you and how to care for them properly.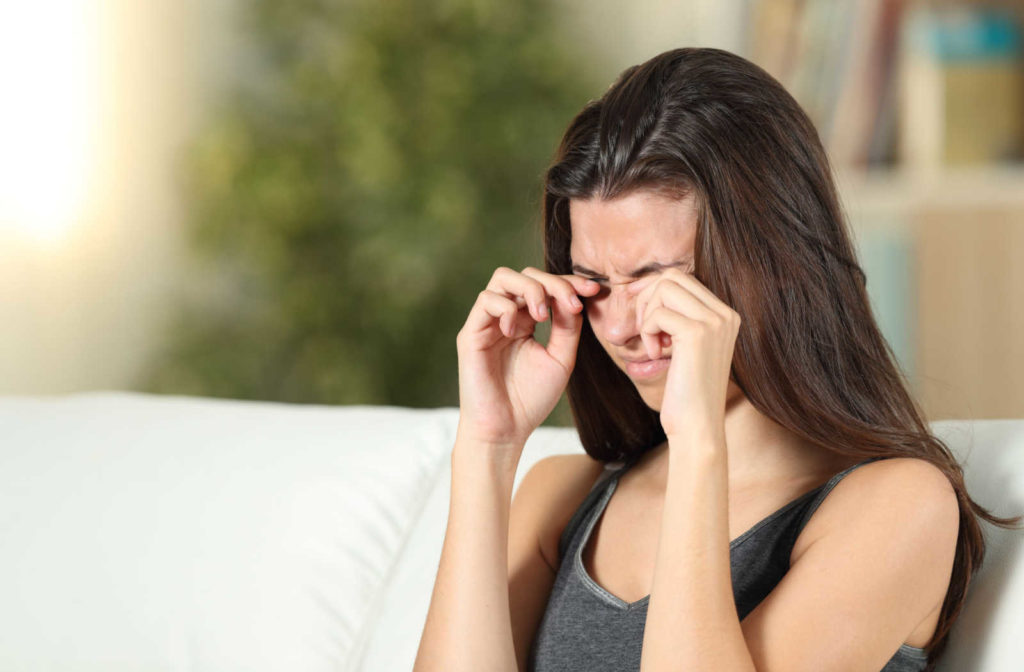 Managing Your Eye Comfort
If you're struggling with your eye comfort, the first step is to request an appointment with us. Even if your contacts may be at the root of your concerns, there might be other contributing factors we would like to look for before we can recommend a treatment strategy.
For example, we may provide some nutritional advice to help support your tear film, or we may recommend traditional glasses if contact lenses might not be a suitable vision-correction option.
In other cases, we may also recommend:
Using Eye Drops
Eye drops may be the first strategy we recommend to help address discomfort while wearing contacts.
However, please speak to our team before you purchase any over-the-counter products. We can suggest a suitable eye drop for your needs based on the information we gather from an eye exam.
Changing Your Contacts Regularly
You'll need to change your contacts regularly whether you wear daily or extended wear contact lenses. Over time, old contact lenses can affect your eye comfort and possibly increase the risk of developing an eye infection.
Scleral Contact Lenses
Scleral contact lenses is a specialty lens we can offer to help address dry eye symptoms.
These lenses have a larger diameter than traditional contacts, allowing them to rest on your eyes' sclera. Because of this size, the centre of the lens "vaults" over your cornea, providing a little space between your eye and contact lens to let a little bit of moisture accumulate, which can help manage dry eye symptoms.
If you're interested in scleral lenses, please let us know when you request your contact lens exam and fitting appointment.
Comprehensive Relief Is Only an Appointment Away
Vision, health, and comfort are the centre of what we provide at Eye Wellness. Whether you're interested in contact lenses, struggling with dry eye, or want help managing a specific eye condition or disease, our team is right by your side to provide the care you need.If you're ready to see how we can support your eyes, give us a call and request an appointment with us today.