Finding the right contact lenses for your unique visual needs is crucial. The first step is scheduling an eye exam with your optometrist.
The advancements in contact lens technology make specialty contacts more effective than ever in correcting vision issues. Scleral lenses are an excellent specialized contact lens option that can help correct unique visual needs.
Let's take a closer look at scleral lenses, including the top 5 benefits of these lenses.
What Are Scleral Lenses?
Scleral lenses are large-diameter lenses that vault over the cornea and rest on the white of the eyes. These lenses don't sit on the cornea like other contact lenses and range in size from 14.5mm to 24mm.
Scleral lenses are an excellent option for people with irregular corneas or other unique visual needs who cannot wear other contact lenses. The inside of scleral lenses is filled with fluid to protect the cornea from irritation and hydrate the eyes.
Because of the size and shape, scleral lenses can be an excellent option for people dealing with keratoconus and dry eye disease.
Your optometrist can determine the scleral lens type and size for your specific visual needs during your contact lens exam and fitting.
The Exam & Fitting Process
During your contact lens exam and fitting, your optometrist will examine your eyes with specialized instruments and conduct various tests to determine your contact lens prescription.
Your optometrist will also carefully measure each of your eyes to determine their specific dimensions, so your contact lenses can fit comfortably and safely.
The final part of the process will involve a trial pair of lenses that you wear during a trial period to determine if there are any issues or if you need a more precise fit.
5 Benefits of Scleral Lenses
The benefits of scleral lenses can be most seen with hard-to-fit-eyes. Let's explore the top 5 benefits of scleral lenses.
#1 Ideal for Keratoconus & Dry Eyes
Scleral lenses are an excellent option for people with keratoconus and dry eyes. Because of the large diameter of these lenses, they reach over the cornea and prevent irritation while also hydrating the eye, which is an issue for dry eyes.
Keratoconus is a progressive disease that affects the front of the eye and causes an irregular distortion of the cornea, resulting in poor vision. Like dry eyes, because scleral lenses vault over the cornea, people with keratoconus can wear scleral lenses comfortably.
#2 Extra Breathability
Scleral lenses vault over the cornea, so the space between the back of the lens and the front of the cornea is put to good use. This space holds fluid that keeps the eye hydrated and results in a healing environment for the eye.
This extra breathability can result in comfortable contact lens wear for those with irregular corneas and other vision issues.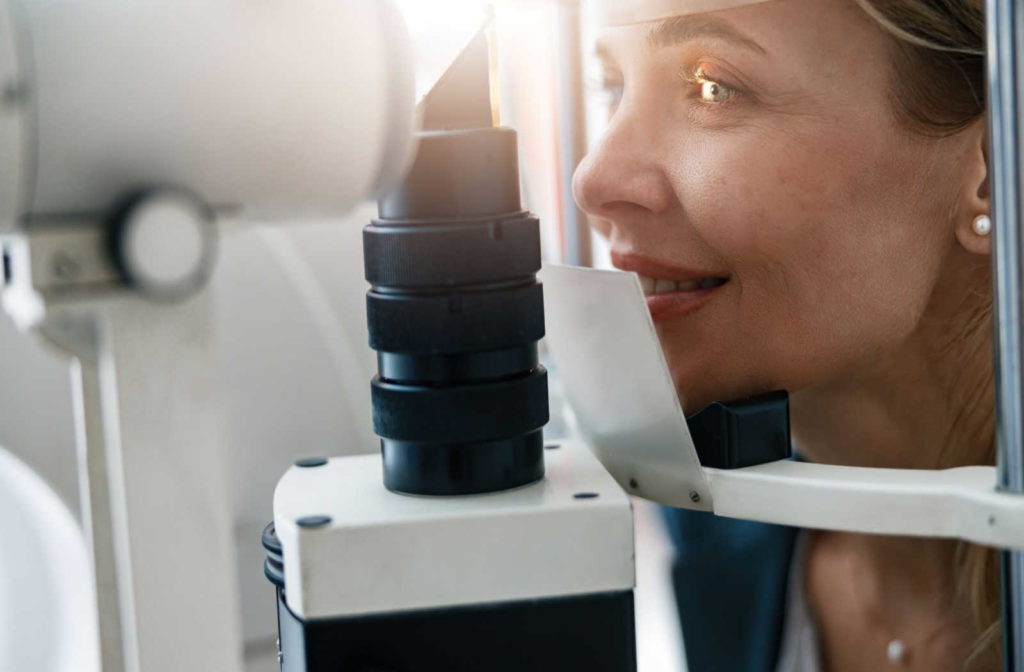 #3 Durability & Comfort
Scleral lenses are made of rigid gas permeable materials and allow for a design that is both comfortable to wear and durable. The highly breathable RGP materials allow for a steady flow of oxygen to the eyes.
The contact lens exam and fitting process can determine what size scleral lens is ideal for your eyes.
#4 A Custom Fit
Your optometrist will be able to test and fit your custom scleral lenses carefully. This process allows for a precise and comfortable fit and ensures that your eyes are compatible with scleral lenses.
You can feel confident about your new scleral lenses knowing your optometrist has taken all the necessary steps during the fitting process.
#5 Safe & Convenient to Remove
Scleral lenses are larger in diameter and overall size and rest over your eyes. This size difference makes them easier to insert and remove from your eyes.
Your cornea is a sensitive area, and a larger contact lens can make it, so it's easier to avoid damaging that area.
Comfortable Vision Solutions
Scleral lenses are an excellent vision solution for people with irregular corneas or chronic dry eyes. The unique composition and large diameter allow for a comfortable fit while providing clear vision.Book an appointment with your optometrist today to see if scleral lenses are a good option for you.