At Eye Wellness, it's no surprise that we appreciate glasses—both for the boost they give our vision, as well as for the unique peek into the wearer's style that frames can provide. Even so, having the option to go frame-free with contact lenses is appealing.
For a long time, contacts were considered unsuitable for certain eyes and vision problems. Don't count contacts out yet, though! If you're concerned that your eyes won't support contacts, there may be a specialty lens available that fits your needs.
A Brief History of Contact Lenses
Contact lenses have come a long way since they were first created. Usable contacts were made from glass in the early 1800s—but did you know that the concept of contact lenses was imagined by Leonardo da Vinci 500 years ago? Despite that, the first contact lens that only covered the cornea came to be in the 1940s.
Since the 1980s, we've seen tremendous developments in the materials used for contact lenses. We now have access to lightweight, comfortable, and disposable contacts. As technology rapidly advances, we can look forward to exciting breakthroughs in contact lens development and wear.
Why are Specialty Contacts Needed?
Specialty contacts are used in cases where the eye cannot support a more typical soft hydrogel lens. Conditions that may call for specialty contacts include:
In the past, people with these conditions were often told they were not candidates for contact lenses at all. Thanks to advancements in the optometric and ophthalmological fields, contacts are available for a wider variety of people than ever before.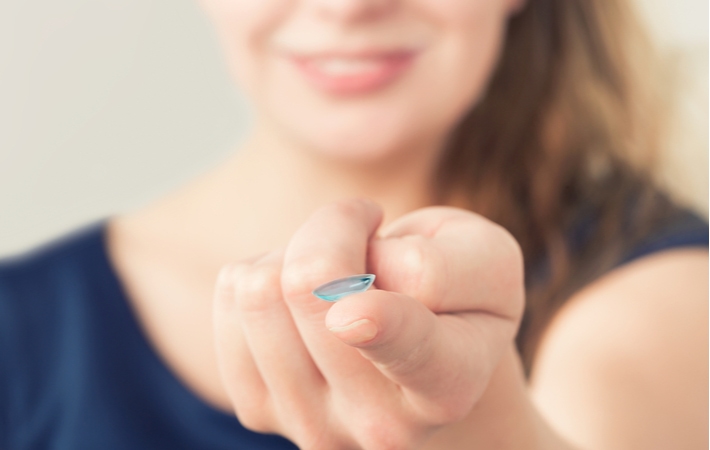 Types of Specialty Contact Lenses
With the variety of specialty contact lenses available today, it's more likely than ever that there's an option that will suit your unique eyes.
Rigid Gas-Permeable Lenses
Rigid gas-permeable (RGP) contact lenses are made of a stiffer plastic that maintains their shape while allowing ample oxygen through to the eye.
RGP lenses offer crisp vision and are quite durable. Their rigid construction means they are less likely to rip or tear, and are easy to care for. However, because they're harder than soft contacts, they may take longer to get used to, and can feel more uncomfortable initially.
With a proper fitting and an adjustment period, RGP contacts are a good option for many people with irregular shaped corneas.
Toric Lenses
Toric lenses correct astigmatism. They're crafted so that they always sit in the right position on the eye, maintaining clear vision. These lenses also correct other refractive problems that go along with astigmatism.
It can take some time to find the correct toric lens to suit your eyes since everyone's eyes are so unique. Be prepared to try more than one type of lens if your prescription calls for astigmatism correction.
Scleral Lenses
Scleral lenses don't sit atop the cornea as most other contacts do. These large-diameter lenses vault over the cornea and rest on the sclera, or the white of the eye. Scleral lenses range in size from 14.5mm—24mm.
People who find other lenses unbearably uncomfortable have better luck with scleral lenses because the sclera is less sensitive than the cornea. Additionally, since the curve of these lenses is filled with a fluid reservoir, they tend to offer relief for people with extremely dry eyes. These lenses provide good vision to people with keratoconus or other corneal irregularities.
Multifocal Lenses
Multifocal contact lenses work to correct multiple vision problems at once, such as myopia and presbyopia. These lenses work similarly to bifocal glasses; different areas of the lens are made of different materials, which help the eye correct visual problems.
Orthokeratology Lenses
Orthokeratology (or ortho-k) contact lenses are rigid gas permeable contacts worn overnight. The sturdy contact lens gently reshapes the front of the eye while the wearer sleeps.
Since the effects of ortho-k last a short while once the contacts are removed, the wearer can go about their day with clear vision without using contacts or glasses. The corneal reshaping is temporary—be sure to wear these contacts nightly for best results.
Myopia Control Lenses
Myopia, or nearsightedness, can affect anyone of any age, but special contact lenses are available to slow the progression of myopia in children. If your child struggles with nearsightedness, bring them in for a comprehensive eye exam, and see if contact lenses could help.
Cosmetic Contacts
Cosmetic contacts, otherwise known as Halloween, theatrical, or special effects lenses, change the appearance of your eye. Though these often don't offer vision correction, it's crucial that you obtain them from your eyecare team.
Contacts are medical devices and without a proper assessment and fitting, they can cause eye problems such as:
Redness
Blurred vision
Swelling
Discharge
Discomfort
Corneal abrasions
Keep your eyes safe by getting all your contact lenses directly from your optometrist.
Explore Your Vision Correction Options
If you have ever been told you aren't a contact lens candidate, double-check with your optometrist. A comprehensive contact lens exam can reveal what sort of lenses could offer you clearer vision. Request an appointment at Eye Wellness to see how our team of professionals can help you achieve your best sight.