One of the most important things we can do for our health is check in on our eyes. At the end of the day or first thing in the morning, you should ask yourself, "How do my eyes feel?"
Are they tired? Irritated? Uncomfortable? If so, you may be experiencing dry eye.
Dry eye disease is a common eye condition that affects roughly 6 million people in Canada. Several factors can cause dry eye disease, and there are many ways to treat and manage the symptoms of dry eyes.
Unfortunately, while these treatments typically work well to manage symptoms, they often don't address the underlying cause of dry eyes.
To cure your dry eyes, we recommend an integrative approach. We suggest that you explore how you can treat your dry eyes naturally in addition to seeking professional dry eye therapy.
Keep reading to learn more about dry eye disease, what symptoms you should look out for, and how to relieve dry eyes naturally.
What Is Dry Eye?
Dry Eye disease is an eye condition that occurs when there is an inconsistency in your tears. Your tears are made up of three components, including:
Each of these layers serves an important purpose in keeping your eyes moist and healthy. A lack of any of these components can lead to either of the two types of dry eye disease.
Evaporative Dry Eye
Evaporative dry eye is the most common form of dry eye. Evaporative dry eye occurs when there is a lack of the oily or lipid layer in your tears. This causes your tears to evaporate too quickly, drying your eyes out.
Aqueous Tear Deficiency
If you lack an aqueous layer in your tears, it can lead to aqueous deficient dry eye. When this happens, your eyes aren't producing enough tears to keep your eyes moist and functioning correctly.
What Causes Dry Eye?
There are many different causes of dry eye disease. When exploring treatment options, you should focus on treating the root cause of the issue instead of just the symptoms to see long-lasting results.
Some of the common causes of dry eyes include:
Medical procedures
Windy or dry environments
Seasonal or chronic allergies
Health problems
Certain medications
Long-term contact lens wear
Prolonged screen use
Lack of proper hydration
To identify the cause of your dry eye, book an appointment with your optometrist to get an eye exam. Your optometrist can diagnose, treat, and manage your dry eye condition as well as any other vision problems.
Additional Risk Factors
Research has identified that certain factors can increase your risk of developing dry eye disease. These risk factors include:
Age: You are more likely to experience dry eye syndrome if you are over 50
Smoking: Smoking has been linked to many eye conditions, including dry eye syndrome
Gender: Women suffer from dry eye syndrome more often than men
Body fat: A high percentage of body fat has been linked to dry eye syndrome
To prevent yourself from developing dry eye disease, you should ensure you maintain a healthy diet, limit tobacco use, and live a healthy lifestyle.
Symptoms of Dry Eye
Dry eye disease can be a chronic or temporary condition. It typically affects both eyes, but in some cases, it can affect just one eye.
Common symptoms of dry eyes include:
Sore, red, or inflamed eyelids
A burning or gritty sensation
Fluctuations in vision
Contact lens discomfort
Watery eyes
Mucus in or near the eye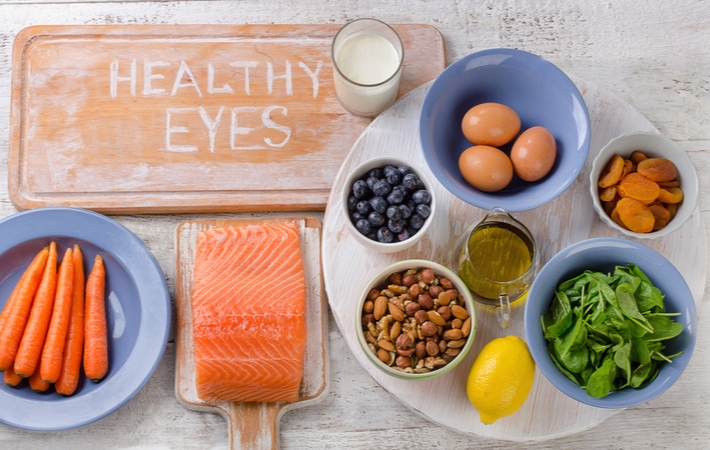 Relieving Dry Eyes Naturally
The key to treating dry eye disease is to combat the issue at the root of the problem. If you know what is causing your dry eye disease, several natural remedies can help you manage dry eye symptoms.
What You Put in Your Body Matters
Studies have shown that diet plays a role in dry eye disease. Making sure you're getting a sufficient amount of the following vitamins and nutrients may decrease your dry eye symptoms:
Omega-3 fatty acids
Vitamins A, B12, & D
Research shows that omega-3 fatty acids are particularly helpful in improving the eye's oil film. It was found that people who used omega-3 to manage their dry eyes saw a 17% decrease in symptoms.
Stay Hydrated
If you don't stay adequately hydrated, your body can have problems producing enough tears. As you know, a lack of tears can lead to aqueous deficient dry eye.
To avoid dry eyes, you should drink 6-8 cups of water every day.
Blink More
One of the leading causes of dry eye is prolonged screen use. When looking at a screen, people blink significantly less than they are supposed to, causing the eyes to dry out.
To keep your eyes from drying out while using a screen, remember to blink often. You can also practice the 20/20/20 rule, which states that you should take a break every 20 minutes to look at something 20 feet away for 20 seconds when using a digital device.
Use a Humidifier and a Filter
A windy or dry environment can cause temporary dry eyes. If you live in a dry climate, you can use air purifiers, filters, or humidifiers to add moisture back into the air, keeping your eyes moist and healthy.
Don't Forget the Compresses
Even something as simple as a warm compress can provide relief for your dry eyes. The heat from the warm compress can help clear your meibomian glands. This can:
Improve oil gland function
Increase oil flow into the eyes
Stabilize the tear film
Slow tear evaporation
For best results, use a warm compress daily in combination with other dry eye treatments such as artificial tears or ointments.
Talk to Your Optometrist
The best way to efficiently treat your dry eyes is to receive a proper diagnosis from your optometrist. During an eye exam, your optometrist will discuss your symptoms and examine your eyes to find the root cause of your symptoms.
Once you've been diagnosed, your doctor can go over treatment options and recommend natural remedies for you to try at home.
If you have any questions or concerns about your dry eyes, contact us today!