Dry eyes, also known as dry eye disease, is a common condition that affects an estimated 30% of Canadians. Having dry eyes can cause a range of uncomfortable symptoms, but can it cause blurred vision?
The short answer is yes, dry eyes can cause blurred vision. Having dry eyes can cause your eyes to become inflamed, and if left untreated, can cause corneal damage, both of which can cause you to experience blurred vision.
If you are experiencing dry eye symptoms, including blurred vision, you should consult with your eye doctor to identify the underlying cause of your dry eyes and come up with an effective treatment plan.
Dry Eyes & Blurriness
Dry eyes occur when your eyes are either not producing enough tears, or your tears are evaporating too quickly. Both of these problems can impact your eye's ability to maintain a healthy level of lubrication and cause uncomfortable dry eye symptoms.
Common dry eye symptoms include:
Stinging or burning eyes
Feeling like something is in your eye
Watery eyes
Red eyes
Sensitivity to light
Blurred vision
Dry eyes can develop due to a wide range of medical and lifestyle factors, including age, certain health conditions and medications, and prolonged screen time.
Is My Blurred Vision Related to Dry Eyes?
While dry eyes can cause blurred vision, it's important to note that blurred vision cannot cause dry eyes. If you are experiencing blurred vision without additional dry eye symptoms, it's likely that your blurred vision is caused by another eye or medical problem.
Common non-dry eye-related causes of blurred vision include:
Myopia and hyperopia
Astigmatism
Cataracts
Diabetes
If you are experiencing sudden or worsening blurred vision, it's important to seek the advice of your eye care provider to properly identify the cause and receive appropriate treatment.
If your blurred vision is caused by dry eyes, you should find that your vision is restored after treating your dry eyes directly. Treatment may involve a range of at-home or in-clinic therapies.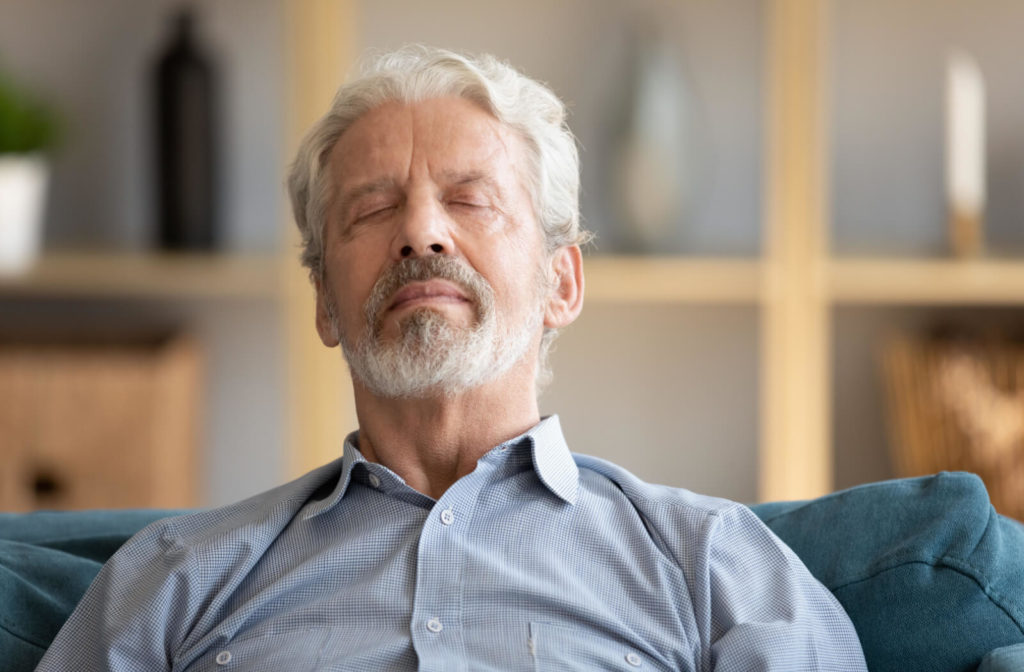 What to Do for Dry Eyes at Home
Treating dry eyes can help to improve symptoms, including blurred vision. The first step in treating dry eyes is to identify the underlying cause. This may involve a comprehensive eye exam to determine the extent of the dryness and any other issues that may be contributing to the problem.
There is a wide range of at-home treatments and lifestyle changes that can help reduce dry eye symptoms and improve blurred vision.
Use Eye Drops
One of the most common treatments for dry eyes is the use of eye drops or artificial tears. These drops are designed to mimic natural tears and help lubricate the eyes.
Artificial tears are available over the counter and come in a variety of formulations, including preservative-free options for those with sensitive eyes.
Use a Warm Compress
A warm compress can be a helpful tool in treating dry eye caused by meibomian gland dysfunction.
Warm compress therapy can help improve tear quality by stimulating oil production in the meibomian glands. The heat of the compress can help melt away blockages in these important oil glands and restore tear production.
Take a Break
Take frequent breaks while reading or using a computer. Practice the 20-20-20 rule: for every 20 minutes of screen time, take a 20-second break, and focus your eyes on an object at least 20 feet away.
Blink More
Blink regularly to help keep your eyes properly lubricated. This is especially important while using digital devices, as we tend to blink less while looking at screens.
Add a Humidifier
Using a humidifier in your home can add moisture to the air. Adding moisture to your environment can also help prevent other conditions related to dryness such as dry skin, bloody noses, and cracked lips.
Stay Hydrated
Drink plenty of water to promote hydration. Ask your doctor about your specific water intake needs, which will depend on your activity level, weight, and other health factors.
Prioritize Omega-3s
Eating a diet rich in omega-3 fatty acids can help reduce inflammation in the eyes, according to some studies.. Fatty fish including salmon and sardines are great sources of omega-3s.
If you aren't a fan of fish, there are also a number of plant-based sources and supplements to meet your nutritional needs.
Finding Relief from Dry Eyes & Blurriness
If you are experiencing blurred vision or dry eye symptoms, your first step should be to book an eye exam. Your optometrist is your best resource in diagnosing dry eyes and identifying any other factors that may be contributing to blurred vision.
At Eye Wellness, our knowledgeable eye care team is here to support all of your vision needs, including dry eye diagnosis and treatment. Contact our team to book a consultation today!