Your eye exams are critical for your ocular health. They can help keep your vision prescription up to date and allow you to address any eye concerns you may have.
Comprehensive eye exams can take from 20 to 60 minutes. Your optometrist will perform a series of tests to measure how well you can see and detect any problems affecting your overall eye health. An eye exam can also help detect unrelated medical issues impacting your general health.
How Long Does an Eye Exam Take?
From one appointment to the next, your eyes can change. Your eye exam will be uniquely personalized to your eyes, meaning some appointments will be shorter or longer than previous visits. Comprehensive eye exams can take from 20 to 60 minutes. Factors that may impact the length of your eye exam include:
Any new eye trauma or injury
Pre-existing eye conditions or elevated risk of an eye disease
Eye dilation as part of your eye exam
Vision changes or new indicators of an eye condition
You're a new patient and seeing your optometrist for the first time
Comprehensive eye exams help ensure your eye health needs are met at every appointment.
Types of Eye Exams
Several different eye exams are available, including:
What to Bring to Your Eye Exam?
By preparing for your eye exam, you can make the most of your time with your optometrist. When booking your appointment, you should mention any eye troubles such as dry eyes or digital eye strain. You should also bring questions you want answered during your appointment.
Things you should bring to your eye exam include:
List of any medications you're taking
New family history information
Current glasses, contact lenses, and prescriptions
Sunglasses to help with light sensitivity after a dilated eye exam
How Often Should You Have Your Eyes Examined?
Depending on the condition of your eyes, your family history of eye diseases, and your potential risk factors, your optometrist will recommend a proactive eye exam schedule to detect problems early. As a general guideline:
Those under 19 should have their eyes examined every year
Adults should have their eyes examined every 2 years
Those 65 and older should have annual eye exams
When Should a Child Have Their First Eye Exam?
Children's eye exam schedules are different from adults. Their development is quick and dramatic during their first few years of life. Monitoring the development of their eyes and vision requires frequent eye exams. It's recommended that:
The first eye exam should occur between birth to 24 months
Between the ages of 2 and 5, children should have their next eye exam
From the ages of 6 to 19, children should have annual eye exams
Risk factors such as low birth weight, prematurity, family history, or academic performance problems may influence your child's eye exam schedule.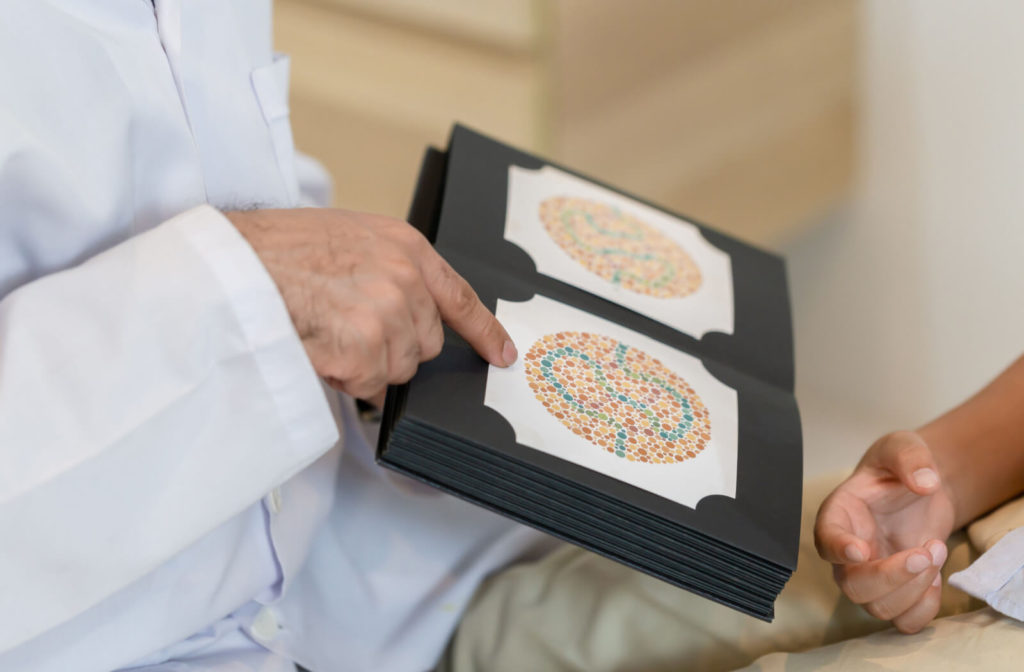 Tests Included in an Eye Exam
Your eye exam will include a series of tests to help determine whether you need corrective lenses, what kind of correction you need, and assess the eye's structures. These tests can include:
Visual acuity, or how clearly you see
Visual field test for peripheral vision
Refraction assessment to determine whether you're nearsighted, farsighted, or have astigmatism
Colour vision test
Slit lamp exam, to look inside the eye
Retina exam, to detect eye conditions and damage to the retina
Eye exams use non-invasive equipment and testing techniques to evaluate the health of your eyes. Your optometrist may recommend advanced tests if they detect indicators of an eye condition or if you're experiencing symptoms in your eyes.
What Does an Eye Exam Evaluate?
Your optometrist will explain the results of your tests to you in the exam room. Normal results of an eye exam include:
Good peripheral vision
Ability to distinguish colours
20/20 vision
Absence of glaucoma, cataracts, or retinal disorders
Normal-appearing eye structures
Schedule Your Comprehensive Eye Exam
Maintaining a regular eye exam schedule is key to achieving crisp, clear vision and healthy eyes. Book an appointment at Eye Wellness for a routine eye exam for an updated prescription for your glasses and contact lenses, or ask us questions about your eye health and symptoms.