Since contact lenses are an effective and almost invisible way to correct vision problems, they've become integral in people's lives. But if you want to maintain good eye health and achieve clear, comfortable vision, it's vital to get a good fit.
A contact lens exam and fitting by your eye doctor can ensure you get a precise fit to avoid injury and possible complications. This includes checking your eye health to see if you're a candidate, measuring your cornea, and helping to find contact lenses to best suit individual needs.
What Are Contact Lenses?
Contact lenses are medical devices that sit on the cornea (the clear outer layer of the eye) and therefore need a prescription. Many people aren't aware that the prescriptions for contact lenses and eyeglasses are different.
The advantage of contact lenses is that they don't block your vision like eyeglasses, move with the eye, and provide more natural vision. Contact lenses come in different shapes, materials, and strengths to suit individual needs.
Contact Lens Exams
Contact lens exams are not like regular eye exams because they require taking extra measurements of your eyes. But just like eye exams, you should have regular contact lens exams at a frequency recommended by your eye doctor.
Before any testing, your eye doctor will discuss your medical and eye history and ask about your lifestyle or hobbies. During a contact lens exam, they will assess your eye health and vision with various tests to ensure you are a candidate for contact lenses.
Tests include checking for a refractive error and determining the prescription for your contact lenses.
Contact Lens Fittings
The next step after your contact lens exam is a contact lens fitting.
This can involve the following tests:
Keratometry—measuring the cornea's curvature using an instrument called a keratometer. This measurement determines the size of your contact lenses.
Tear film evaluation—healthy tear film is essential for successful contact lens wear. Dry eye syndrome can lead to contact lens discomfort.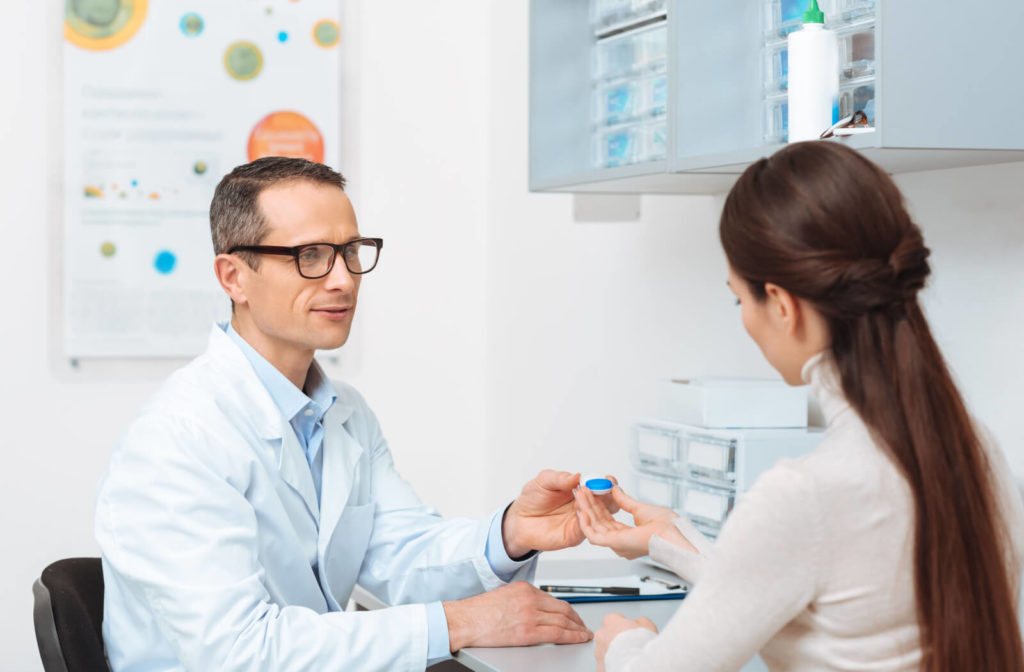 Why Do You Need a Contact Lens Fitting?
Contact lenses are available in several varieties and can accommodate different refractive errors. Without a contact lens fitting, it's next to impossible to determine the right fit.
Here are some reasons why you need a contact lens fitting:
Contact lens prescriptions can change over time. If you don't update your contact lens prescription, your eye has to work much harder to provide clear vision. Symptoms that your prescription needs changing can include squinting, eye strain or eye fatigue.
When your contact lenses fit, they provide comfortable vision, and sometimes you don't even remember they're there. You can prevent contact lens-related problems by having the right shape, size, and type of contact lens for your eyes.
If you're prone to dry eye or allergies, your eye doctor can recommend a different type of lens that will work better for you.
A contact lens fitting is a great time to discuss your lifestyle or preferences with your eye doctor. With their help, you can determine a replacement schedule for your contacts—daily, weekly, biweekly, or monthly.
Even if you're not a first-time contact lens wearer, you can still learn about inserting, removing, and caring for your contact lenses.
Caring for Your Contact Lenses
Once you've found the right pair of contact lenses with the help of your eye doctor, they will send you home with a trial pair. If they work, great. If they're not 100% ideal, you can try a different type, style, size, or brand.
Here are some steps you can take to care of your contact lenses for optimal vision:
Wear your contacts only for the recommended time.
Follow instructions on when and how to remove, clean, disinfect, and store your lenses.
Only use the cleaning and disinfecting system as instructed by your eye doctor or the manufacturer.
Have regular eye and contact lens examinations.
Don't sleep or nap while wearing your contacts unless specifically indicated.
Don't use eye medications or eye drops without first consulting your eye doctor.
Contact Lenses for Proper Fit
A contact lens exam and fitting are equally essential as comprehensive eye exams. 
If you want to switch from eyeglasses to contact lenses or are experiencing discomfort with your current pair, reach out to the team at Eye Wellness or request an appointment. Our passionate and caring eye doctors can find the best fit of contact lenses for your vision and lifestyle needs.