Winter is not only the coldest season of the year but also a time when many people may start to encounter dry eye symptoms. Some tips to help prevent dry eyes in the winter include using humidifiers, warm compresses, and wearing glasses to protect your eyes from any harsh winds.
If you are experiencing any issues with your eyes or visions, please book an appointment with Eye Wellness and learn about the treatments that we can offer.
Tips for Preventing Dry Eye Symptoms in the Winter
Winter can be a difficult season for people that have dry eyes as dry eye is more likely to occur during this time. Some reasons for this are that the moisture outdoors decreases due to the weather, and the moisture inside also typically decreases because of indoor heating. Here are a few tips to help prevent dry eye during the winter:
Humidifiers
Humidifiers help to restore moisture in an environment that might lack it. If you frequently use an indoor heater to stay warm during the cold months, a humidifier can help create balance and bring back some of that lost moisture. However, don't forget to clean them to avoid bacteria and mould that can build up on and around them.
Warm Compresses
Your meibomian gland is one of the most common culprits behind dry eye, as it's responsible for managing the natural oils needed for your tears. If they get clogged, it can negatively affect the tears' quality and lead to a dry eye condition. A warm compress can help to loosen the oils and unblock clogged meibomian glands. 
Glasses & Goggles
Glasses and goggles can be useful tools for helping to prevent dry eyes during the winter by shielding your eyes from harsh winds or other potentially harmful elements.
Let Your Eyes Rest
If you spend lots of time looking at a monitor, screen, or other high-focus activity, it's important to take breaks periodically and give your eyes a chance to rest. Taking breaks may allow your eyes time to blink and self-lubricate. In some cases, spending long periods looking at a screen can impact the frequency of your blinking, which may lead to dry eyes.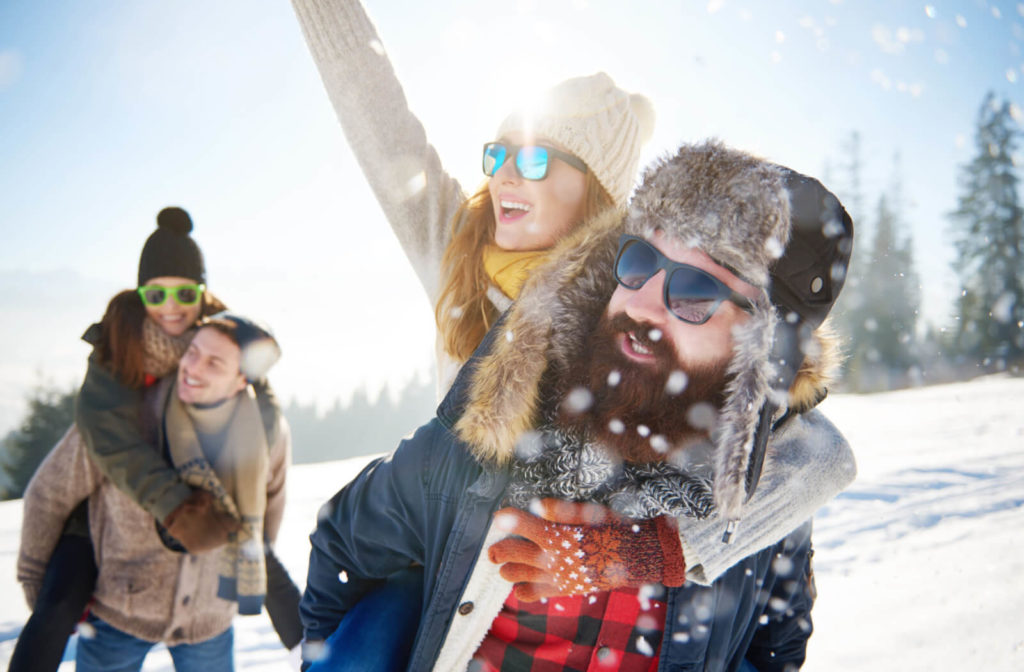 What Is Dry Eye?
Dry eye is a condition where the thin film on the eye lacks the necessary moisture it needs. Typically this occurs when your eyes are not producing enough tears or the tears being produced are lower in quality.
Symptoms of Dry Eyes
Dry eye symptoms may change based on the person and the severity of their condition. Here are a few of the common symptoms you may encounter:
Burning
Increased sensitivity to light
Red eyes
Difficulty wearing contact lenses
Blurry vision
Mucus in or around your eyes
If you are experiencing symptoms of dry eyes, it's important to book an appointment with your optometrist and learn more about the available treatment options.
What Causes Dry Eyes?
Dry eyes are a common condition and affect many people worldwide. Here are a few of the common reasons that dry eye symptoms might be caused:
Aging may cause your production of tears to decrease
Hormonal changes in women after pregnancy
Spending too much time looking at a screen
Taking medications that cause dry eyes
Illnesses like rheumatoid arthritis, diabetes, lupus and others may cause dry eyes
An environment like smoky air or heavy winds
Treatment for Dry Eyes
Treatment methods used for dry eyes will depend on the seriousness of your condition. Consult your optometrist about what treatment plan might work best for your eyes. Here are several treatment methods available:
Artificial Tears
Artificial tears are a type of eye drop that can be used to replace your natural tears and ease the discomfort caused by dry eyes. Most pharmacies and some general stores will sell these eye drops over the counter, and they can be purchased without a prescription.
Medications
Some medications can be taken to help diminish or alleviate the symptoms experienced by dry eyes. Speak with your doctor to find out if medication might be a good option. Your doctor may recommend medications like specialty eye drops, ointments, or nasal sprays that can be used to help.
Lifestyle Changes
Lifestyle changes like drinking more water, eating a diet higher in omega-3 fatty acids, and quitting smoking may help to reduce dry eye conditions or relieve it altogether. Another simple preventative tip is to avoid using hairdryers, which can increase the likelihood of your eyes becoming dry.
Surgery
Your doctor may recommend surgical intervention as a treatment option. Some surgeries include punctal plugs, thermal cautery, intense pulse light therapy, or other laser eye surgeries.
Book an Appointment Today
If you have been experiencing any symptoms of dry eyes or issues with your ocular health, please book an appointment with our team of experienced optometrists at Eye Wellness.